Are you looking for women safety applications for android smartphones in India ? how women are, still in this day and age, being subjected to violence, domestic abuse and rape. The countless rape cases reported in recent years by the international media and the reactions of politicians, police authorities, victims, offenders, as well as the people who read these stories speak volumes about where we stand in the issue of personal safety for women.
Thankfully though, there are a lot of women's personal safety apps developed to help tackle this issue. We have here a list of 5 apps built with women's personal safety, these are made for Android mobile phones. Most of these apps are free to use.
List of top free android women safety applications :
VithU: V Gumrah Initiative
Circle of 6
Family Locator – GPS Tracker
FAMY – family chat & location
Nirbhaya: Be Fearless
VithU: V Gumrah Initiative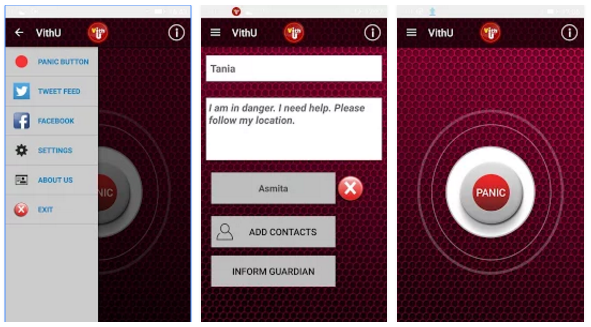 VithU is a Channel V Initiative, created to cater to the rising need of a simple yet efficient safety app for women. With two simple clicks, you can let your guardians know about your current location during your time of need.
Download from Google Play Store : VithU: V Gumrah Initiative Download Link
Circle of 6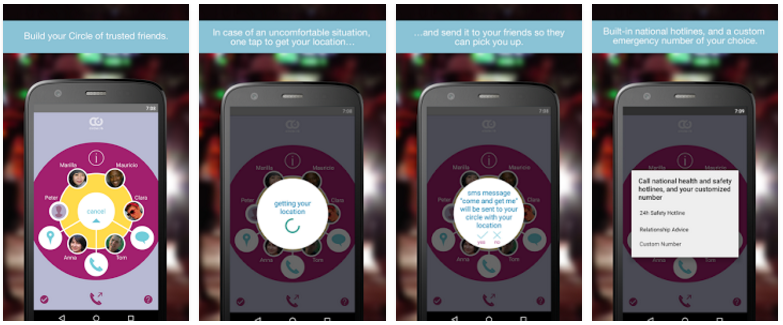 Circle of 6 is a personal safety app for everyone. Winner of the 2011 White House and HHS "Apps Against Abuse" Technology Challenge and Winner of Avon Foundation for Women/Institute of Medicine "Ending Violence @Home"
Circle of 6 lets you choose up to 6 trusted friends to add to your circle. If you get into an uncomfortable or risky situation, use Circle of 6 to automatically send your circle a pre-programmed SMS alert message, with your exact location. It's quick. It's discreet. Two taps is all it takes. Circle of 6 also connects you to 24h hotlines for safety and information, as well as Scarleteen.com, a comprehensive online sexual health resource.
Download from Google Play Store : Circle of 6 Download Link
Family Locator – GPS Tracker

Family Locator Offers Real Time Location Data
Plan your next family gathering with family tracker and end multiple texts to learn everyone's estimated arrival time. Family tracker alerts you when family members have checked in at a location and thanks to GPS Tracking technology, family tracker can also advise if someone is running late.
GPS Tracking of All Circle Members
For time-sensitive communication, Family Locator can quickly pinpoint the location of every family member. GPS Tracking for non-smartphone users is also possible, for a small monthly fee. This knowledge is quite handy for party planning: use GPS Tracking to make sure all guests have arrived before the guest of honor shows up! Family Locator also saves your most commonly visited locations and can provide directions to them quickly (thank you Family Locator!).
Download from Google Play Store : Family Locator – GPS Tracker Download Link
FAMY – family chat & location

Famy is a Light, fast, and accurate location tracking application for android smart phones.
Famy Applcation Key Features
Accurate Location Tracking
Storing History of Movement Paths
Consuming Less Battery
Group Location Sharing
Sending SOS message
Download from Google Play Store : FAMY – family chat & location Download Link
Nirbhaya: Be Fearless

Nirbhaya: Be Fearless is an App that can be used in any type of emergency to protect women, children and your near & dear ones using a "Single" click Distress signal. Join the Safe City initiative and help others by STAMPing the 'Safe' and 'Unsafe' areas in your city. Use the app to create Safety Heat Maps for your cities.
Lakshmi (A new movie by Nagesh Kukunoor) supports The Nirbhaya: Be Fearless App. Take the Lakshmi Quiz and get a chance to Meet the star cast of Lakshmi. For Advance Features Like Geofence and Stamp, Kindly upgrade Android OS to version 3.0 and Above.
Nirbhaya: Be Fearless is an android emergency application, which can send a distress call or emergency message to a specified contact or group in an emergency situation faced by a woman or any other individual in general. Correct Location, Information and Communication, with and from the app is dependent upon the basic hardware/software requirements, like – Active Data plan, SMS plan, minimum talk time and active GPS functionality.
Download from Google Play Store : Nirbhaya: Be Fearless Download Link
These are the most useful android apps that save our country women's life. Kindly share with your friends to save any of life in this world.